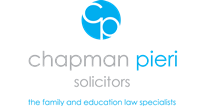 Address Southgate Office Village, Block D, 286 Chase Road, Southgate, London
London

Post CodeN14 6HF

Chapman Pieri Solicitors
We are a modern niche practice specialising exclusively in family, divorce, children and education law. We service clients across North London and Hertfordshire. Our service areas include: - Divorce/Civil Partnerships - Financial Arrangements - Unmarried Couples - Children - Fertility Law, Donor Conception, Adoption and Surrogacy - International - Aspects of Relationship Breakdown - Family Mediation - Education Law We combine expertise with compassionate and robust advice in equal measure to ensure the best possible outcome for you and your family. We treat each of our clients as individuals and deliver high quality specialist family and education law advice. We take pride in our cost conscious approach and are continually evaluating our services. We enjoy consistent feedback from our clients that they value our personal and professional support.
Reviews
Add your review
5
from 6 reviews
Divorce 5
Karen is purely a beautiful human, period. Divorce isn't easy or nice. Karen made it easy and to be fair kept me nice! Her empathy and understanding is limitless add her knowledge and that right there gives you the winning formula to a rubbish situation. I've 3 children which Karen kept as priority throughout. I honestly can not recommend Karen and her team highly enough. Thank you. Tash xx
Natasha Lee Dwyer-Harley 15 Feb 2019
Great service 5
Cannot praise Karen enough!She recently helped me with some documents I needed urgently for my wedding. She was fast, efficient and a complete pleasure to deal with!I cannot recommend her and her team enough for making things so easy for me! Thanks so much for everything you really are a star! X
Angela 7 Jul 2015
Children's Matters 5
Without the help of the wonderful Martha and Christina at Chapman Pieri solicitors I wouldn't of been reunited with my darling son. I cannot express into words how professional and hardworking they were when working on my case. They encouraged me to carry on when things got tough and without their support and guidance I wouldn't be in the wonderful position I am in today. I would recommend them to anyone who is also having family issues as they are the best!!!!!
C C of Cockfosters 2 Jul 2015
Family Law 5
Christina Pieri recently helped one of my best friends through an extremely difficult divorce. Having been at my friend's side throughout the proceedings, I would recommend Christina's services to anyone seeking to resolve an issue of family law. Her practical advice is based on a very thorough knowledge of the law and years of experience; she is always accessible and very prompt in responding to all communications. In my experience, Christina relates to clients in very difficult and emotional situations with tact, empathy and great kindness. She is a fantastic person to have on your side.
E Miller 1 Jul 2015
Divorce & Finances 5
"I managed to get through the other end of my situation, due to the sincere, professional and consistent reassurance of the wonderful Christina Pieri. Her prompt communication and intelligent understanding, always left a comfort and that the best was being done from start to finish and that I was her priority. The strength of service was consistent throughout and the variety of questions answered and communicated in a friendly and helpful manner, with clear and reassuring instructions. Excellent in every way! Her partner Karen and the whole team were equally amazing, welcoming, friendly, consistently helpful and very caring. I have and will always recommend, this excellent team who give a 5* service! Truly Amazing And Unique!!"
Mrs D of Cockfosters 15 Jun 2015
Superb Solicitor 5
Karen Chapman is a star. She really helped give me invaluable advice and information regarding an issue I was having with my sons school. Whilst the information was not what I had hoped to hear.....Karen explained what all my options were in 'laymans' terms. Excellent service, fast and friendly. Her number is going in my phone book, and I would certainly recommend to friends and family.
Nicola Adedeji 2 Feb 2013