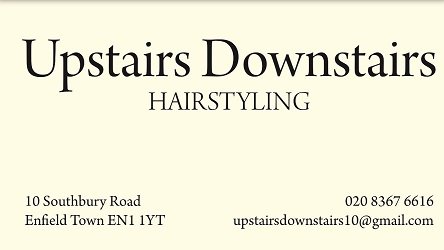 Address 10 Southbury Road
Enfield

Post CodeEN1 1YT

Upstairs Downstairs
We are a well established family run business with over 30 years experience in the industry . We offer a full range of hair services and products for men and women.
Reviews
Add your review
5
from 2 reviews
Nervously searching for a new look.... 5
So, I've been looking for a new look for a while now, and I've also been looking for a new hairdressers too. After some researching on the LYDS group, Upstairs Downstairs just stood out and the owner, Maria, came across really helpful and friendly. So I popped in, discussed what I was looking for (which was a total makeover) and made my first appointment. Maria and her staff came across really friendly and really helpful, making suggestions here and there about what was needed to achieve the look I was after. My first appointment was a long one (I did say total makeover) but it was so worth the time spent. The result was fantastic and definitely surpassed the inspiration I provided. My second appointment was just as good. I went in for a trim, tidy and a touch up, so this appointment wasn't as long. But once again Maria and her staff were friendly and helpful. And the new refurbishment looks fantastic. That's the salon's refurb, not my hair. Though my hair was fantastic too! I've only had two proper appointments and I already feel welcomed like an old friend. Definitely a place I would recommend.
Nikki 10 Jul 2019
Upstairs Downstairs 5
A BIG thank you to Marie and all her staff for their patience and skill with the challenge I gave them. This hair salon is very professional and friendly and I highly recommend all the stylist. Thank you Marie xxxxxx
Angie 5 Jul 2019